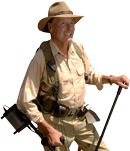 Doug Stone has written and published some of Australia's leading books on gold prospecting. A key element of Doug's work has been the production of detailed gold maps showing diggings, gold reefs, mines and prospective areas to metal detect and prospect. Doug's Gold & Relic Series of maps stretch from the Pilbara, Kalgoorlie, The Golden Triangle of Central Victoria and the Bathurst Basin in NSW, including Hill End and Sofala. There are over 40 individual maps, plus 3 Gold Atlases covering Western Australia, Victoria and New South Wales.
BRAND NEW!

---
Latest News
Doug's latest book has just been released; "Gold, Coin & Relic Detecting in Australia" which is the companion to Doug's popular "Metal Detecting for Gold in Australia".
Did you know that you can now purchase our products online? We now have an online store where you can purchase our hard-copy or printed maps, books and atlases.
Doug Stone's Gold Maps go live with Avenza Maps! Download Doug's Gold Maps to your smartphone or tablet. No Internet connection required, the built in aerial in your mobile device does all the work, which means all our goldfields are covered no matter how remote. Once you are within the map area, the cursor will track your every move whether in the car or out detecting.
---
Great book, well and truly worth the read with well detailed maps and information! Very prompt dispatch of items and packed very securely. Very impressed! - Customer feedback on Metal Detecting for Gold in Australia (6th Edition)
I have and love my Vic Gold Atlas, but my recent purchase of my local area A2 maps are much easier to use out on the gold fields. From order to delivery was super fast, and I was wrapped to notice the "Doug Stone" signature on the packing slip. - Customer feedback on VIC - Gold & Relic Sites - Metal Detecting Maps
Exactly what I wanted. Thanks! - Customer feedback on Metal Detecting for Gold in Australia (6th Edition)
Great service, postage in great condition & fast, best read, now all I need to do is put into practice. - Customer feedback on Metal Detecting for Gold in Australia (6th Edition)
Excellent Atlas, easy to read and detailed. Yet to go out and put to use but won't be long now - Customer feedback on Doug Stone's Gold Atlas of Victoria
Another fabulous book from Doug Stone..looking forward to exploring the new maps. Very happy with the new book - Customer feedback on Doug Stone's Gold Atlas of Victoria
---